• Jill Kossoris : lead vocals, keyboards
• Scott Krueger : vocals, bass
• Jim Richardson : drums
• Jim Eannelli : guitar
• Mike Pyle : guitar
Another Midwest outfit with undeniable potential that couldn't be saved from the powerpop wreck of the early eighties. Hailing from Milwaukee Wisconsin, the band -- led by a female singer-songwriter, Jill Kossoris -- showed promise, had high hopes but sadly didn't see fortune smile on them.
The Shivvers were Jill Kossoris and drummer Jim Richardson's musical project with the goal of "starting a pop band with a future". After some auditions, they soon asked guitarists Mike Pyle, Jim Eannelli and bassist-songwriter Scott Krueger to join the band (Krueger were also in Orbits).
All the members had solid musical background -- from the classical piano winning prices of Mrs Kossoris to live experiences of J. Richardson who backed up ? and The Mysterians, Shadows Of Knight, Robbs (...) -- but they also knew better than anyone else what pop should have been in these times. There was no longer any doubt about it looking at their cover list : Cyrus Erie's "Get The Message", Left Banke's "She May Call You Up Tonight", "Boys"...
Sure they had their roots in the `60s music, but their future was in the newborn eighties.They were more "new-wavey" than "punk" but retained from t
he latter a sense of urgency that could be heard in their sole single "Teen Line" released on the Fliptop indepedent label in 1980. This 7" release had favorable reviews from Greg Shaw in Bomp and Ken Barnes in New York Rocker. It was a very catchy song, kind of bubbly pop rocker akin to bands like Little Girls (of "Earthquake song" fame) or to the poppiest material of Nikki & The Corvettes. Some powerpop aficionados are not so fond of female lead vocals in powerpop (oh, really?) but the very distinctive vocals of Jill Kossoris had a kind of intonation with a bit of a sulty attitude that sounded truely great.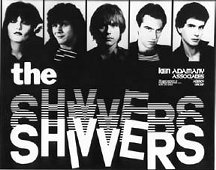 The flip "When I was Younger" was a rougher pop track with an edge which showed off that the band felt comfortable with a (slighty) tougher sound.
The Shivvers also paid attention to the best of the `70s teenybop/AM radio commercial trends, often opening their live shows with "Hey Deanie", an Eric Carmen tracks intended to Shaun Cassidy, or covering Carmen's "It Hurts Too Much". Some of their original material were in this vein -- should-have-been hits -- like the wonderful Krueger-penned "Hold On", or Jill's heartfelt Raspberries tribute "Why Tell Lies". The same obsession for the Cleveland combo that The Flashcubes could have had at the same time. The Shivvers opened up for The Romantics, The Shoes, Iggy Pop and played with Yipes, Off Broadway...
Circa `81 they also recorded a couple of demos recorded, sent later to Eric Carmen, that didn't see the light of day. E. Carmen loved the Shivvers and wanted to produce them. He even suggested them to do a cover of Go All the Way. Probably owing to that, articles were devoted to the band in the Eric Carmen-related newsletters entitled "Carmen*Connection". You can read the former by clicking here and the latter by clicking there. The band had label interest but they didn't take advantage of that because of a lack of resources (manager...) . They eventually broke up in '82 only due to Kossoris' health problems.
Jill Kossoris is still very involved in songwriting ; she works for publishing companies down in Nashville, writing with a lot of people including Robert Reynolds from the Mavericks. Bassist Scott Krueger has recently released himself a very nice Byrds-y CD album entitled "One Voice" that features "Life Without You", an old Shivvers track. "When I was Younger" appeared on an obscure compilation LP entitled WQFM Hometown Project Volume 1. "Teen Line" resurfaced on the recent vinyl-only compilation Powerpearls, vol. 2.